It goes without saying that the Apple store at 5th Ave. was jammed tighter than rush hour traffic this morning. Why, you ask? Guess you're just not hip enough. For the last installment in the Midnight Mix series, Apple decided to go out with a bang and bring the fellas from Spank Rock a little further uptown than they're accustomed to.
Apparently, Naeem destroyed it. Litterally. Some overzealous female patrons cleared one of the display tables used for iPods and converted it into an impromtu stage to shake some ass on (they were probably following Naeem's lead). Apple security was less than pleased with his table dance and tried to pull him down. But after a tussle ensued between Naeem's entourage and Apple security, Naeem supposedly yelled "Yo, everybody steal everything!" Whether he was joking or not, many took heed and began cuffing merchandise left and right. And with a crowd this size, it goes without saying that there would be some expected "casualties." In the midst of the mayhem, some sticky-fingered hipsters were even brazen enough to dismantle the following from the security wires and walk out of the store: one iPod Touch, several iPod Shuffles, two 80 gig iPod Classics, and 4 iPod Nanos. Nice. Just make sure to use plenty of Goo Gone for the adhesive residue on the back.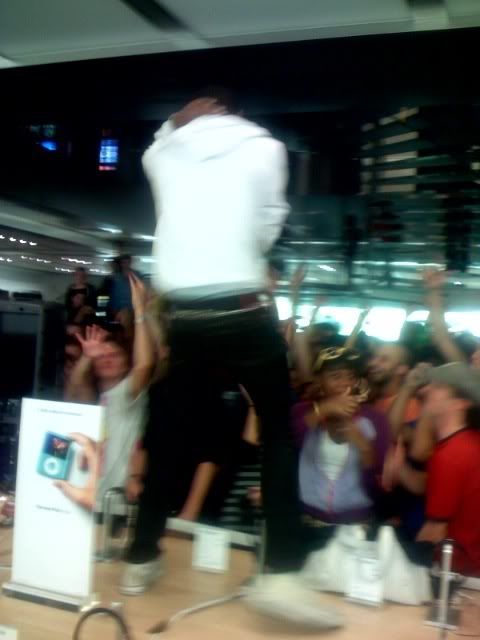 Of course all in attendance were in their best hipster high fashion threads. Trust me, the amount of Supreme gear and SB dunks in that place could have kept an Asian labor camp busy for at least a year.
But, alas, I missed all the brouhaha (and only by a few minutes, too). Apparently, the performance was cut short at 1 AM due to capacity issues and an overly aroused crowd. Even though Naeem stepped off the mic and supposedly dashed off to another gig, the DJ kept rocking. Between insighting theft and a quasi riot, graffiti tags scrawled on the expensive imported Italian stone floor in silver and gold Sharpie, and performing an unadulterated version of "Put That P*ssy On Me," it's safe to say that Spank Rock need not worry about being invited back for another Apple function.
Spank Rock is an acquired taste. Either you love them or you don't. Their sound is like a mash up of Baltimore club trax and ghetto tech. I been lovin' Baltimore club trax since "Get the Hand Clap" and "Hey You Knuckleheads." WAY before the recent transplanting of club trax by the Hollertronix crew to hip cities across the country. In other words, I remember when it was uncool outside the Baltimore area. Does that make me an early adopter? Naw. I just grew up not too far from Baltimore, so I was informed by default. But more than anything that piqued my curiosity was how the largely white hipster crowd was jamming along with Naeem's socially provocative lyrics like "shake it till my d*ck turns racist" and "I create/ styles of a superior taste that/ some white boy's sure to imitate that." Guess I'll have to have a pow wow with Bakari Kitwana about that one. Not familiar with Spank Rock? Google 'em.